JGP-P 64-2
Universal gripper
ID 1460257
Ready for shipment in 3-6 days
Universal gripper JGP-P, Size: 64, pneumatic
Stroke per jaw: 3 mm
Closing force: 720 N
Opening force: 770 N
Max. ambient temperature: 90 °C
| | |
| --- | --- |
| Stroke per jaw [mm] | 3 |
| Closing force [N] | 720 |
| Opening force [N] | 770 |
| Closing force (with finger lengths of 0 mm) [N] | 760 |
| Opening force (with finger lengths of 0 mm) [N] | 850 |
| Weight [kg] | 0.27 |
| Recommended workpiece weight [kg] | 3.6 |
| Fluid consumption double stroke [cm³] | 15 |
| Min. operating pressure [bar] | 2.5 |
| Max. operating pressure [bar] | 8 |
| Nominal operating pressure [bar] | 6 |
| Min. air purge pressure [bar] | 0.5 |
| Max. air purge pressure [bar] | 1 |
| Closing time [s] | 0.02 |
| Opening time [s] | 0.02 |
| Max. permissible finger length [mm] | 85 |
| Max. permissible weight per finger [kg] | 0.4 |
| IP protection class | 40 |
| Min. ambient temperature [°C] | 5 |
| Max. ambient temperature [°C] | 90 |
| Repeat accuracy [mm] | 0.01 |
| Length X [mm] | 76 |
| Width Y [mm] | 36 |
| Height Z [mm] | 39 |
| Moment Mx max. [Nm] | 43 |
| Moment My max. [Nm] | 54 |
| Moment Mz max. [Nm] | 48 |
| Max. axial force Fz max. [N] | 1170 |
It may take a few 100 gripping cycles until the full gripping force (as indicated in the data table) will be available.
Maximum permitted finger projection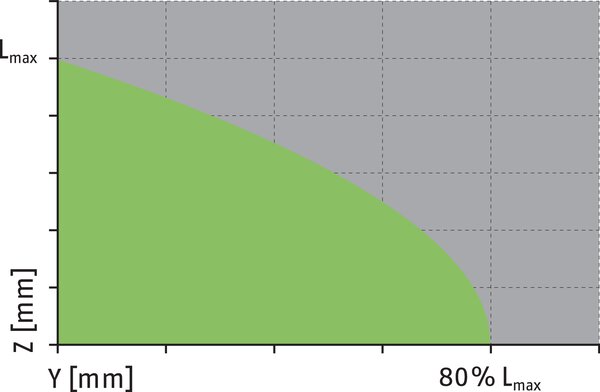 Dimensions and maximum loads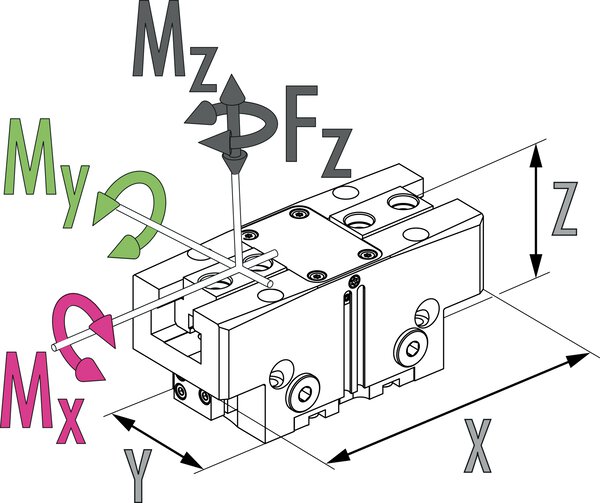 Maximum permitted finger projection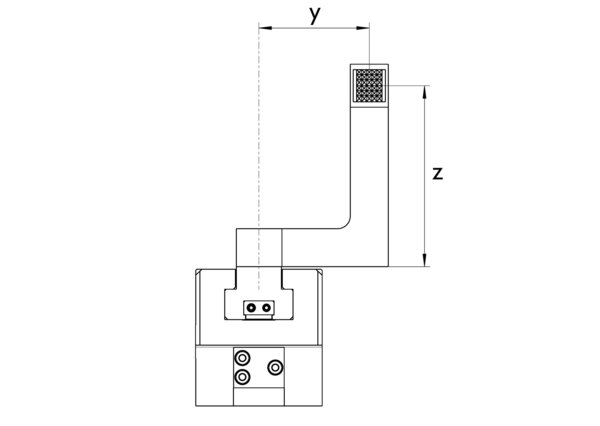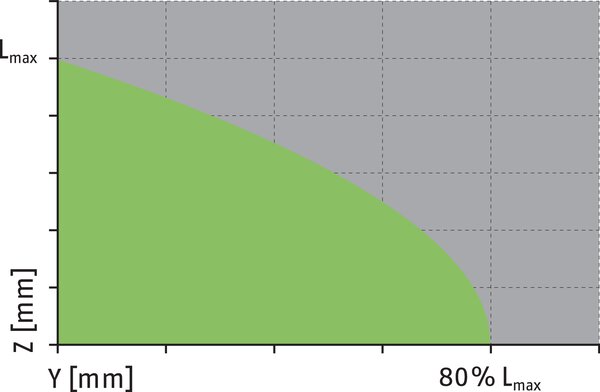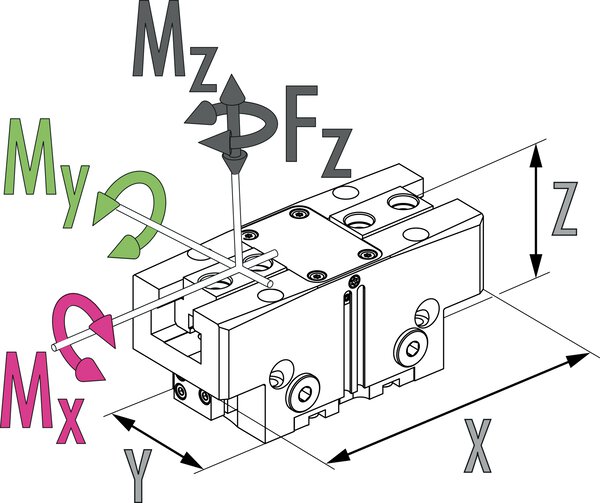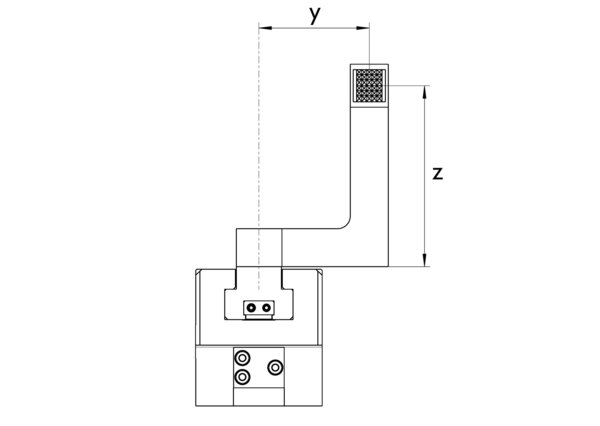 Maximum permitted finger projection
Lmax is equivalent to the maximum permitted finger length, see the technical data table.
green

Permitted range

grey

Inadmissible range
Dimensions and maximum loads
The indicated moments and forces are statical values, apply for each base jaw and may appear simultaneously. Loads may additionally occur to the moment produced by the gripping force itself.
Maximum permitted finger projection
General notes about the series
Gripping force
is the arithmetic sum of the individual force applied to each jaw at distance P (see illustration).
Finger length
is measured from the reference surface as the distance P in direction to the main axis. The maximum permissible finger length applies until the nominal operating pressure is achieved. With higher pressures, the finger length must be reduced proportionally to the nominal operating pressure.
Repeat accuracy
is defined as a distribution of the end Position for 100 consecutive strokes.
Workpiece weight
is calculated for force-fit gripping with a coefficient of static friction of 0.1 and a safety factor of 2 against workpiece slippage at acceleration due to gravity g. For form-fit or capture gripping, there are significantly higher permissible workpiece weights.
Closing and opening times
are purely the times that the base jaws or fingers are in motion. Valve switching times, hose fill times, or PLC reaction times are not included, and are to be considered when cycle times are calculated.
Operating principle
Wedge gear with surface power transmission
Housing material
Aluminum
Base jaw material
Steel
Actuation
pneumatic, with filtered compressed air as per ISO 8573-1:2010 [7:4:4].
Warranty
24 months
Service life characteristics
on request
Scope of delivery
Brackets for proximity switches, centering sleeves, O-rings for direct connection, assembly instructions (operating manual with declaration of incorporation is available online)
Gripping force maintenance device
possible by using the version with mechanical gripping force maintenance or pressure maintenance valve SDV-P