CWA-050-P
Compact change system
ID 305751
Compact change system CWS, Size: 050, Compact change adapter, manual, Direct connection to*: PGN-plus 50
No. of fluid feed-throughs: 4
Force Fz max.: 500 N
Max. total payload: 10 kg
| | |
| --- | --- |
| | Compact change adapter |
| Recommended handling weight [kg] | 10 |
| Repeat accuracy [mm] | 0.01 |
| Weight [kg] | 0.02 |
| Number of pneumatic feed-throughs | 4 |
| Min. ambient temperature [°C] | 5 |
| Max. ambient temperature [°C] | 60 |
| Direct connection to* | PGN-plus 50 |
| Length X [mm] | 42 |
| Width Y [mm] | 35 |
| Height Z [mm] | 10 |
| Moment Mx max. [Nm] | 20 |
| Moment My max. [Nm] | 25 |
| Moment Mz max. [Nm] | 10 |
| Force Fz max. [N] | 500 |
*also suitable for other grippers with the same screw connection diagram
**Please note that the heights of the change master (ZK) and change adapter (ZA) differ. The sum represents the total height of a coupled change system.
Dimensions and maximum loads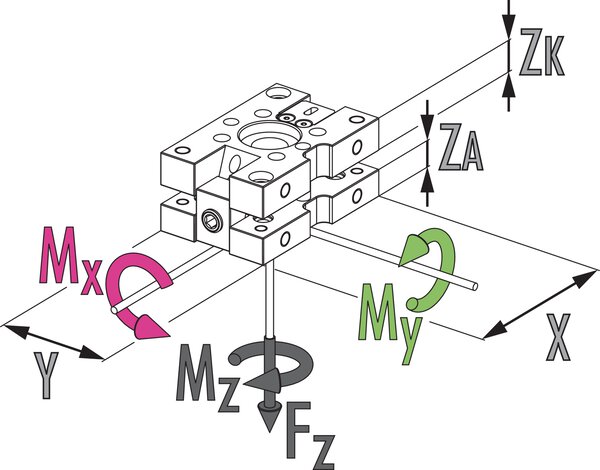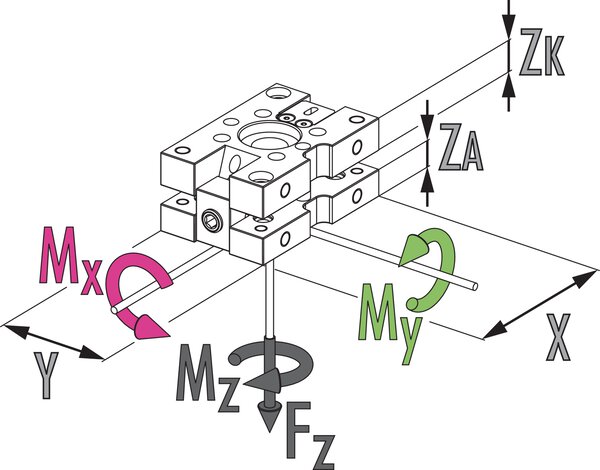 Dimensions and maximum loads
This is the max. sum of all forces and moments which are permitted to act on the change system for ensuring proper functioning.
General notes about the series
Harsh environmental conditions
Please note that use under harsh environmental conditions (e.g. in the coolant area, cast and grinding dust) can considerably reduce the service life of the units, and we will not take over any warranty. However, in many cases we can find a solution. Please contact us for assistance.
Handling weight
is the weight of the total load attached to the flange. When designing, the permissible forces and moments have to be paid attention to. Please note that exceeding the recommended handling weight will shorten the lifespan.
Actuation
manually via Allen key, provided by the customer
Operating principle
by turning the threaded spindle, the clamping jaws are clamped or unclamped
Energy transmission
Integrated pneumatic feed-through
Housing
The housing consists of high-strength, hard-coated aluminum alloy. The functional components are made of hardened steel.
Scope of delivery
Centering sleeves for mounting and direct connection
Warranty
24 months