Linear table Alpha, Size: 15, electrical, Spindle drive, Rail guide
Max. stroke: 1235 mm
Max. driving force: 4000 N
| | |
| --- | --- |
| Max. stroke H [mm] | 1235 |
| Max. driving force [N] | 4000 |
| Repeat accuracy [mm] | ± 0.03 |
| Max. total length [mm] | 1500 |
| Max. speed [m/s] | 2.5 |
| Max. acceleration [m/s²] | 20 |
| Min. ambient temperature [°C] | 0 |
| Max. ambient temperature [°C] | 80 |
| Dead weight of base including slide [kg] | 7.8 |
| Additional mass per 100 mm stroke [kg] | 0.95 |
| Weight of slide [kg] | 2.8 |
| Dead weight of slide, long [kg] | 4.1 |
| Guidance system | Rail guide |
| Number of rails | 2 |
| Size of rails | 15 |
| Drive concept | Spindle drive |
| Idle torque [Nm] | 0.35 |
| Moment of inertia [kgm²] | 0.000085 |
| Spindle diameter [mm] | 20 |
| Spindle pitch [mm] | 5 / 10 / 20 / 50 |
| Max. spindle speed [1/min] | 3000 |
| Length X [mm] | 263 |
| Width Y [mm] | 155 |
| Height Z [mm] | 60 |
| Moment Mx max. [Nm] | 1000 |
| Moment My max. [Nm] | 900 |
| Moment Mz max. [Nm] | 400 |
| Force Fx max. [N] | 4000 |
| Force Fy max. [N] | 2000 |
| Force Fz max. [N] | 20000 |
| Force -Fz max. [N] | 15000 |
Please note that the long slide plates reduce the maximum stroke H.
Max. spindle speed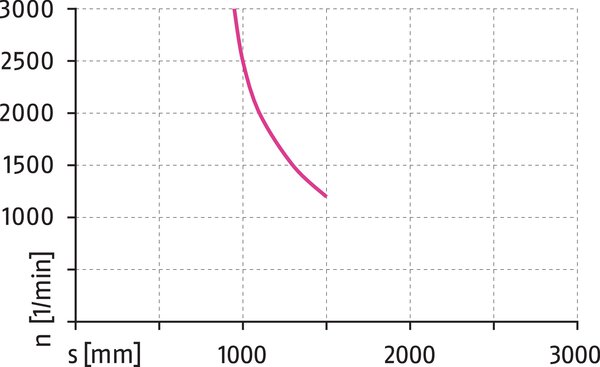 Dimensions and maximum loads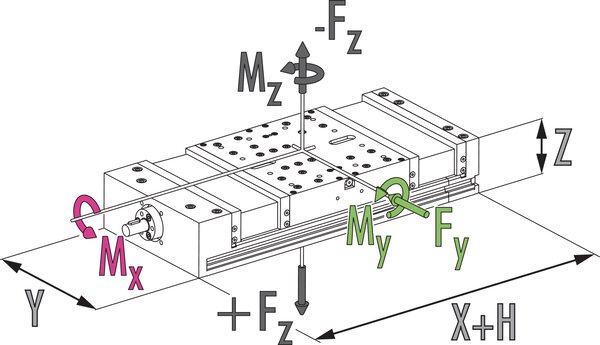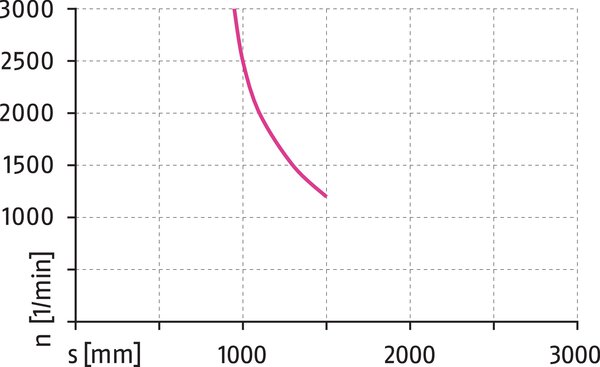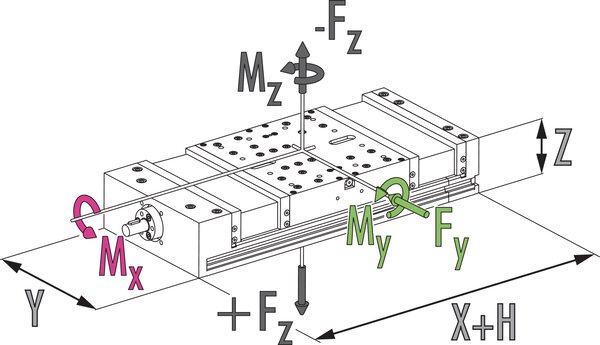 Max. spindle speed
X Axis:

Axis length

Y Axis:

Speed
The diagram shows the maximum spindle speed depending on the overall length of the unit.
Dimensions and maximum loads
The indicated forces and moments are maximum values for individual loading. If several forces and/or moments are applied at the same time, the maximum permitted individual values will be lower.
General notes about the series
Ambient conditions
The modules are mainly designed for the use in clean ambient conditions. Please note that the life time of the modules can shorten if they are used in harsh ambient conditions, and that SCHUNK cannot assume liability in such cases. Please contact us for assistance.
Max. stroke
is the maximum permissible stroke. Acceleration and braking distances or possible overrun must be taken into consideration.
Repeat accuracy
defined as the spread of the target position after 100 consecutive positioning cycles under constant conditions.
Acceleration and speed
The values specified are the maximum values of the units without loading. The actual accelerations and speeds for your application must be designed separately and can deviate from the maximum values.
Layout or control calculation
Verifying the sizing of the selected unit is necessary, since otherwise overloading can result. Please contact us for assistance.
Guidance
Profiled rail guide
Drive
servomotors of different providers can be trouble-free adapted
Profile
Extruded aluminum profile
Slide
Aluminum slide with bellows
Scope of delivery
Assembly and operating manual with declaration of incorporation
Warranty
24 months