EGA-W 40-075-P-N-B
Long-stroke gripper
ID 332050
Long-stroke gripper EGA, Size: 40, electrical
Stroke per jaw: 75 mm
Min. gripping force: 200 N
Max. gripping force: 1300 N
Max. ambient temperature: 55 °C
| | |
| --- | --- |
| Stroke per jaw [mm] | 75 |
| Min. gripping force [N] | 200 |
| Max. gripping force [N] | 1300 |
| Closing time [s] | 0.96 |
| Opening time [s] | 0.96 |
| Max. permissible speed positioning operation [mm/s] | 80 |
| Max. permissible speed power operation [mm/s] | 30 |
| Recommended workpiece weight [kg] | 6.5 |
| Repeat accuracy [mm] | 0.05 |
| Max. permissible finger length [mm] | 500 |
| Max. permissible weight per finger [kg] | 5 |
| Motor moment required [Nm] | 0.8 |
| Motor speed required [1/min] | 1970 |
| Weight [kg] | 8.29 |
| Min. ambient temperature [°C] | 5 |
| Max. ambient temperature [°C] | 55 |
| IP protection class | 40 |
| Length X [mm] | 379.5 |
| Width Y [mm] | 179 |
| Height Z [mm] | 90.2 |
| Moment Mx max. [Nm] | 117 |
| Moment My max. [Nm] | 350 |
| Moment Mz max. [Nm] | 121 |
| Max. axial force Fz max. [N] | 3000 |
Motors are not included in the purchase price in the base variant. Please ask us for details about the integration of your motor type.
Gripping force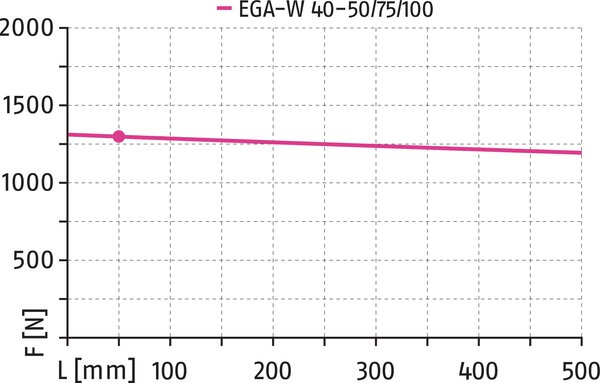 Maximum permitted finger projection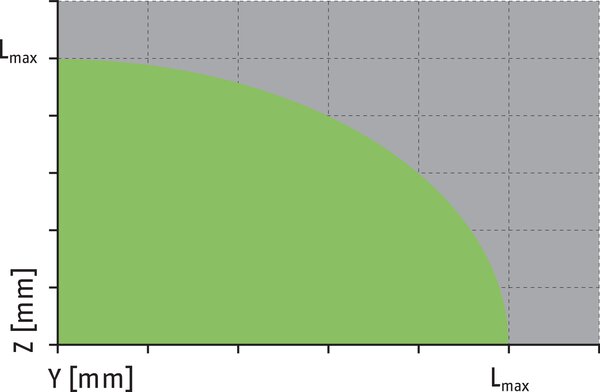 Dimensions and maximum loads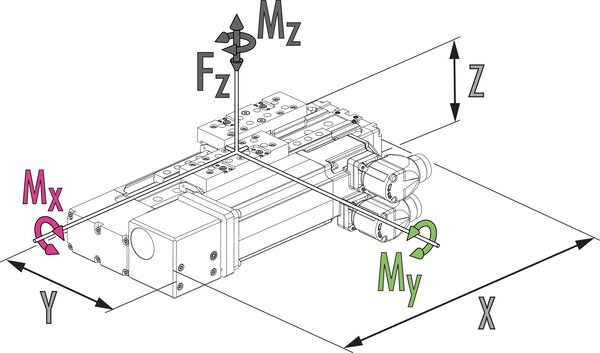 Maximum permitted finger projection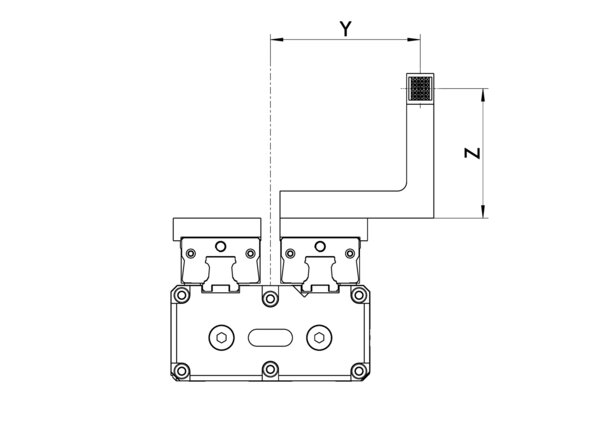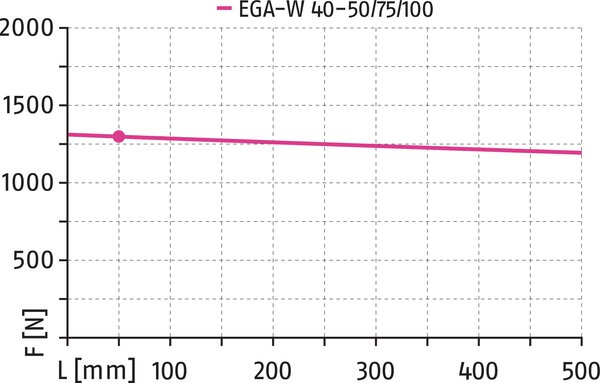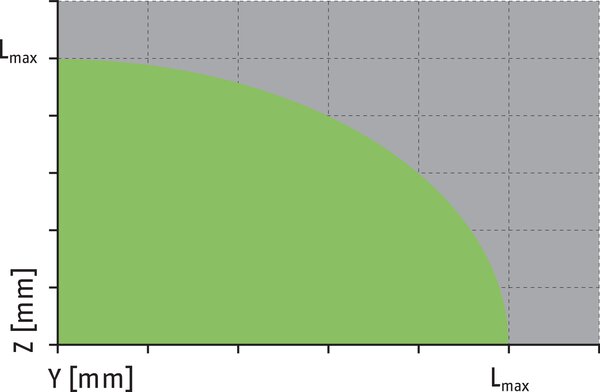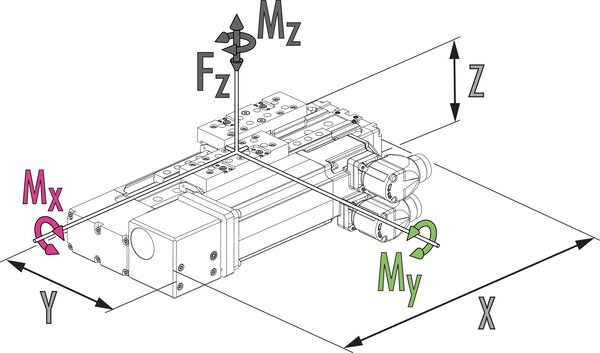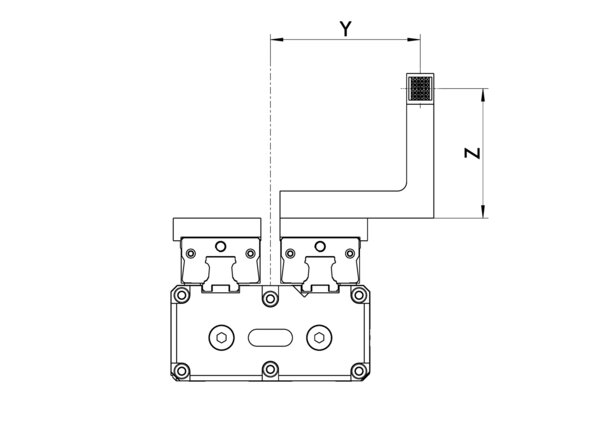 Gripping force
X Axis:

Point P - Finger length

Y Axis:

Gripping force
Maximum permitted finger projection
Lmax is equivalent to the maximum permitted finger length, see the technical data table.
green

Permitted range

grey

Inadmissible range
Dimensions and maximum loads
The indicated torques and forces are static values, apply for each base jaw, and may occur simultaneously.
The indicated moments and forces are statical values, apply for each base jaw and may appear simultaneously. Loads may additionally occur to the moment produced by the gripping force itself.
Maximum permitted finger projection
General notes about the series
Gripping force
is the arithmetic sum of the individual force applied to each jaw at distance P (see illustration).
Finger length
measured from the screw surface of the base jaw in the direction of the main axis. Failure to comply with the max. permissible finger length will result in increased wear.
Repeat accuracy
is defined as a distribution of the end Position for 100 consecutive strokes.
Workpiece weight
is calculated for force-fit gripping with a coefficient of static friction of 0.1 and a safety factor of 2 against workpiece slippage at acceleration due to gravity g. For form-fit or capture gripping, there are significantly higher permissible workpiece weights.
Closing and opening times
When gripping, the speed must be adapted as described in the operating manual so that the closing and opening times can increase. The times specified are only the movement times of the base jaws at max. speed, max. acceleration without electrical restrictions, and observance of the maximum permissible masses per finger.
Motor torque
Required motor torque may be permanently applied to achieve the maximum gripping force.
Operating principle
Spindle drive, synchronized by rack and pinion principle
Actuation
electrically via an adaptable servo drive
Warranty
24 months
Scope of delivery
Enclosed accessory pack with centering sleeve, assembly and operating manual with declaration of incorporation.
Depending on the variant, operation of the gripper requires a motor add-on kit, a servomotor, and a suitable controller. They are not included in the scope of delivery and must be ordered separately.