FTE-AXIA130 SI-2000-125
Force/torque sensor
ID 1512887
Force/torque sensor FT-AXIA, Size: 130, EtherCAT, Ethernet, RS-422, RS-485
evaluation via: EtherCAT
Range of measurement Fx, Fy: ± 2000 N
Range of measurement Fz: ± 4000 N
Range of measurement Mx, My: ± 125 Nm
Range of measurement Mz: ± 125 Nm
IP protection class: 67
| | |
| --- | --- |
| evaluation via | EtherCAT |
| Housing material | Aluminum |
| Sensor cable | 5 m, M12 connector on an M12 connector |
| Control line | Y distributor 4 m, M12 plug on RJ-45 plug and 3-pin power supply (open wire strand) |
| Weight [kg] | 0.86 |
| Calibration 1 | SI-2000-125 |
| Range of measurement Fx, Fy [N] | ± 2000 |
| Range of measurement Fz [N] | ± 4000 |
| Range of measurement Mx, My [Nm] | ± 125 |
| Range of measurement Mz [Nm] | ± 125 |
| Overload Fx, Fy [N] | ± 10000 |
| Overload Fz [N] | ± 20000 |
| Overload Mx, My [Nm] | ± 620 |
| Overload Mz [Nm] | ± 620 |
| Resonant frequency Fx, Fy, Mz [Hz] | 2500 |
| Resonant frequency Fz, Mx, My [Hz] | 4000 |
| Resolution Fx, Fy [N] | 0.625 |
| Resolution Fz [N] | 0.625 |
| Resolution Mx, My [Nm] | 0.025 |
| Resolution Mz [Nm] | 0.025 |
| IP protection class | 67 |
| Diameter D [mm] | 130 |
| Height Z [mm] | 39.2 |
| | yes |
Dimensions and maximum loads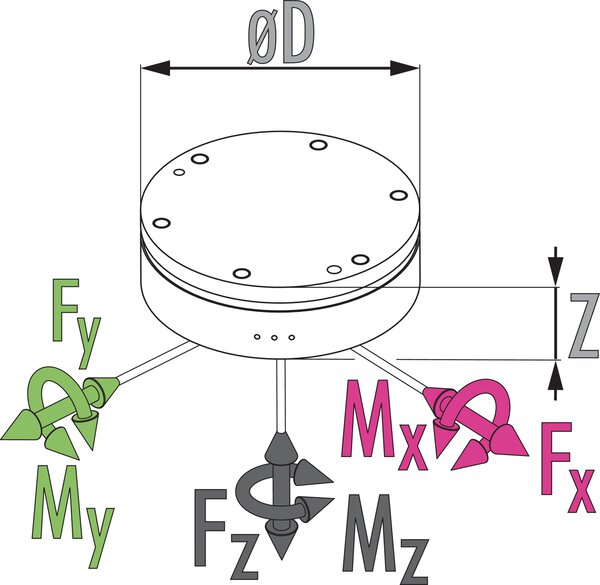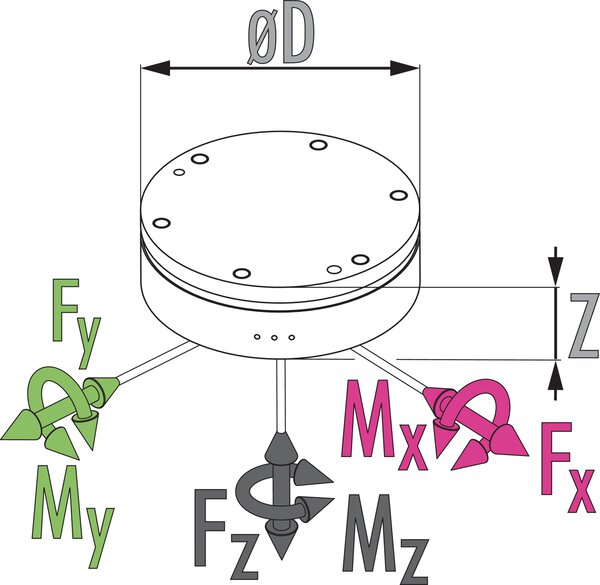 Dimensions and maximum loads
All forces and torques acting on the sensor must be within the specified measurement range.
Exceeding the measurement range will reduce the maximum number of load cycles and may lead to damage of the sensor. Please contact us if your application exceeds the measurement range.
General notes about the series
Harsh environmental conditions
Please note that use under harsh environmental conditions (e.g. in the coolant area, cast and grinding dust) can considerably reduce the service life of the units, and we will not take over any warranty. However, in many cases we can find a solution. Please contact us for assistance.
Handling weight
is the weight of the total load attached to the flange. When designing, the permissible forces and moments have to be paid attention to. Please note that exceeding the recommended handling weight will shorten the lifespan.
Measuring accuracy
< 2% of the upper limit value of the measuring range at 22 °C
evaluation via
EtherCAT, Ethernet, RS-422, RS-485
Warranty
12 months