LM 50-H038-ASP
Universal linear module
ID 314455
Universal linear module LM, Size: 50, pneumatic, Piston rod cylinders, Backlash-free, pre-loaded cross roller guide, with rod lock
| | |
| --- | --- |
| Stroke [mm] | 38 |
| extend force [N] | 120 |
| retracted force [N] | 103 |
| Repeat accuracy [mm] | 0.02 |
| Piston diameter [mm] | 16 |
| Bar diameter [mm] | 6 |
| Min. operating pressure [bar] | 3 |
| Max. operating pressure [bar] | 8 |
| Nominal operating pressure [bar] | 6 |
| Fluid consumption/10 mm stroke [cm³] | 2 |
| Overall length [mm] | 200 |
| IP protection class | 40 |
| Min. ambient temperature [°C] | 5 |
| Max. ambient temperature [°C] | 60 |
| Cleanroom class ISO 14644-1:1999 | 6 |
| Weight [kg] | 1.09 |
| Drive concept | Piston rod cylinders |
| Length X [mm] | 200 |
| Width Y [mm] | 45 |
| Height Z [mm] | 45 |
| Moment Mx max. [Nm] | 13 |
| Moment My max. [Nm] | 15.1 |
| Moment Mz max. [Nm] | 7.55 |
| Clearance N (for moment load) [mm] | 35 |
| Max. axial force Fz max. [N] | 705 |
| Version with holding brake | yes |
Dimensions and maximum loads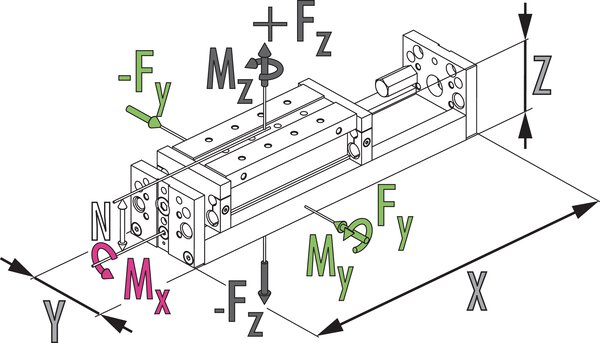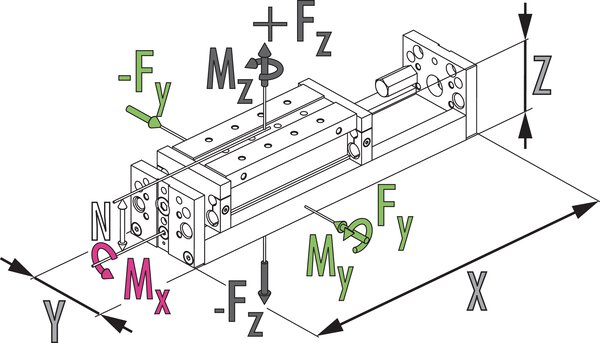 Dimensions and maximum loads
The indicated forces and moments are maximum values for single load. If more than one force and/or torque occurs simultaneously, the case of application can be calculated by using the Toolbox. The force Fy can only be calculated by using the Toolbox.
General notes about the series
Repeat accuracy
is defined as a distribution of the end positions for 100 consecutive cycles.
Travel times
are pure movement times of the slide or the base body. Valve switching times, hose filling times, or PLC reaction times are not a part of this and are to be considered when cycle times are calculated.
Stroke
is the maximum nominal stroke of the unit. It can be shortened on both sides by the shock absorbers.
Layout or control calculation
For configuration or control calculation of the units, we recommend to use our Toolbox software, which is available online. Verifying the sizing of the selected unit is absolutely necessary, as otherwise overloading may occur.
Ambient conditions
The modules are mainly designed for the use in clean ambient conditions. Please note that the life time of the modules can shorten if they are used in harsh ambient conditions, and that SCHUNK cannot assume liability in such cases. Please contact us for assistance.
Housing material
Aluminum alloy, anodized
Guidance
Backlash-free, pre-loaded cross roller guide
Actuation
pneumatic, with filtered compressed air as per ISO 8573-1:2010 [7:4:4].
Scope of delivery
Shock absorber and driver for proximity switch
Warranty
24 months
Service life characteristics
on request