Compensation unit Z AGE-Z 2, Size: 63
Compensation Z: 8 mm
Workpiece weight: 9 kg
Force Fz max.: 350 N
Force Fd max.: 1000 N
Max. spring force: 100 N
| | |
| --- | --- |
| Compensation Z [mm] | 8 |
| Recommended handling weight [kg] | 9 |
| Locking force retracted at 6 bar [N] | 750 |
| Locking force extended at 6 bar [N] | 900 |
| Min. spring force [N] | 60 |
| Max. spring force [N] | 100 |
| Min. operating pressure [bar] | 2.5 |
| Max. operating pressure [bar] | 6 |
| Repeat accuracy [mm] | 0.02 |
| Robot-side connection | ISO 9409-1-63-4-M6 |
| Weight [kg] | 0.8 |
| Min. ambient temperature [°C] | 5 |
| Max. ambient temperature [°C] | 60 |
| Length X [mm] | 80 |
| Width Y [mm] | 80 |
| Height Z [mm] | 59.5 |
| Moment Mx max. [Nm] | 20 |
| Moment My max. [Nm] | 20 |
| Moment Mz max. [Nm] | 50 |
| Force Fz max. [N] | 350 |
| Max. force Fd [N] | 1000 |
Load chart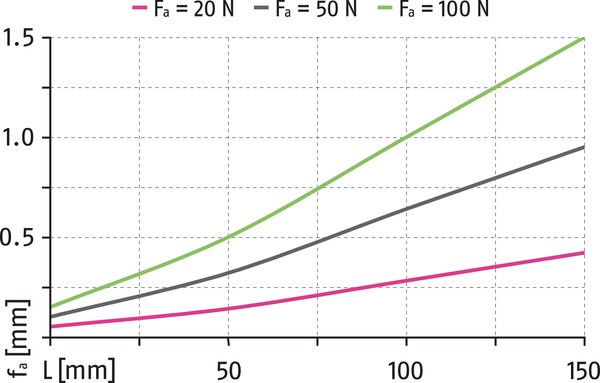 Deflection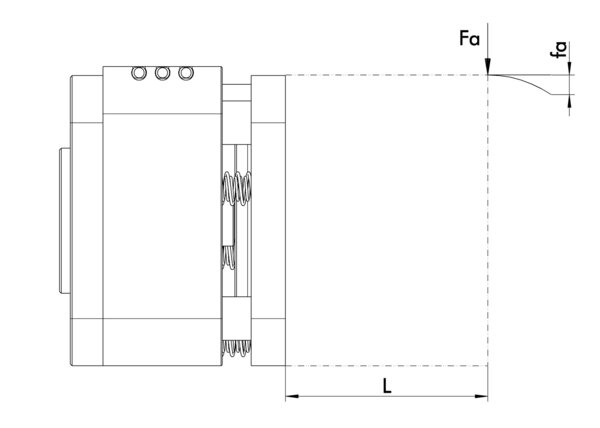 Dimensions and maximum loads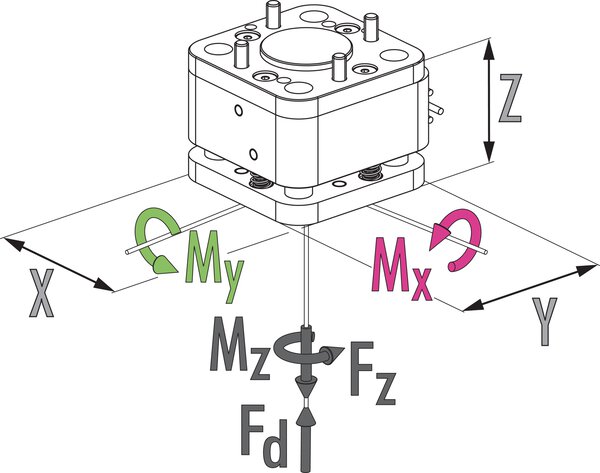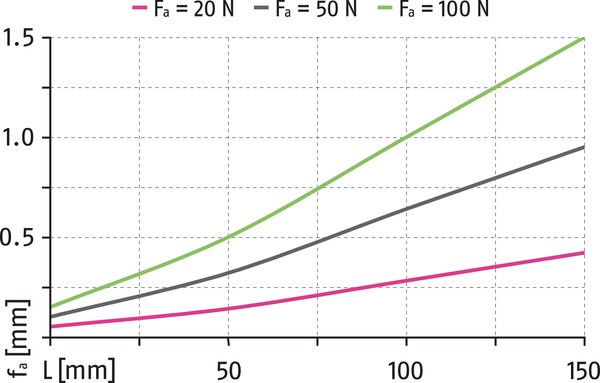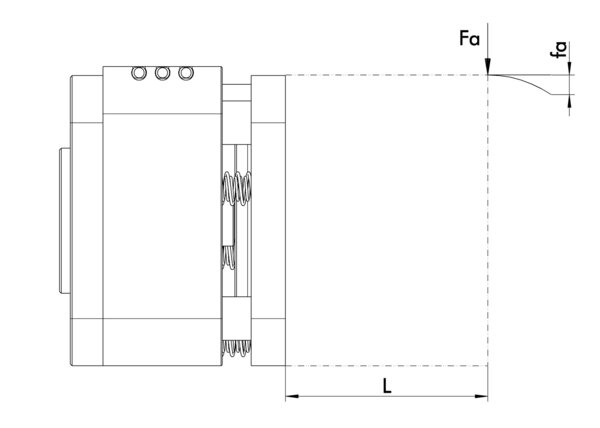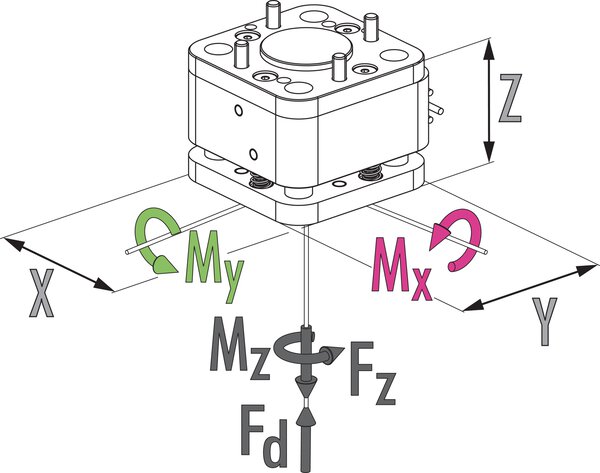 Load chart
The diagramm shows the AGE-Z 2 deflection under load and in the unlocked state.
Deflection
Dimensions and maximum loads
This is the max. total of all moments and loads (acceleration forces and torques, process forces etc.), which can affect a compensation unit, in order to ensure error-free function.
General notes about the series
Harsh environmental conditions
Please note that use under harsh environmental conditions (e.g. in the coolant area, cast and grinding dust) can considerably reduce the service life of the units, and we will not take over any warranty. However, in many cases we can find a solution. Please contact us for assistance.
Handling weight
is the weight of the total load attached to the flange. When designing, the permissible forces and moments have to be paid attention to. Please note that exceeding the recommended handling weight will shorten the lifespan.
Guidance system
Scope-free ball bearings
Monitoring
via magnetic switch or inductive proximity sensor
Actuation
pneumatic, with filtered compressed air as per ISO 8573-1:2010 [7:4:4].
Housing
hard anodized aluminum alloy, functional parts made of hardened steel
Scope of delivery
Robot-side mounting screws
Warranty
24 months