SRU-plus-D1 60-W-180-3-VM-8-M12-AS
Universal swivel unit
ID 1369416
Ready for shipment from 11 working days
Universal swivel unit SRU-plus-D, Size: 60, pneumatic, pneumatic and electric feed-through, Angle of rotation: 180 °, End position adjustability: 3 °, Middle position: 1 x VM (locked), Adjustability of middle position: 3 °, End position damping: hydr. damper, with fluid feed-through, with electrical feed-through, with integrated electrical feed-through
No. of fluid feed-throughs: 8
Torque: 70 Nm
| | |
| --- | --- |
| End position damping | hydr. damper |
| Angle of rotation [°] | 180 |
| End position adjustability [°] | 3 |
| Torque [Nm] | 70 |
| Number of intermediate positions | 1 x VM (locked) |
| Adjustability of middle position [°] | 3 |
| IP protection class | 67 |
| Weight [kg] | 19.95 |
| Fluid consumption (2x nom. angle) [cm³] | 1120 |
| Nominal operating pressure [bar] | 6 |
| Min. operating pressure [bar] | 4 |
| Max. operating pressure [bar] | 6.5 |
| Diameter of connecting hose | 8 x 6 x 1 |
| Min. ambient temperature [°C] | 5 |
| Max. ambient temperature [°C] | 60 |
| Repeat accuracy [°] | 0.05 |
| Moment My max. [Nm] | 340 |
| Max. axial force Fz max. [N] | 9000 |
| Version with fluid feed-through | yes |
| Version with electrical feed-throughs | yes |
| Version with M12 connector | yes |
All units are also available in an FKM version. Please contact us for details.
Max. permissible inertia J*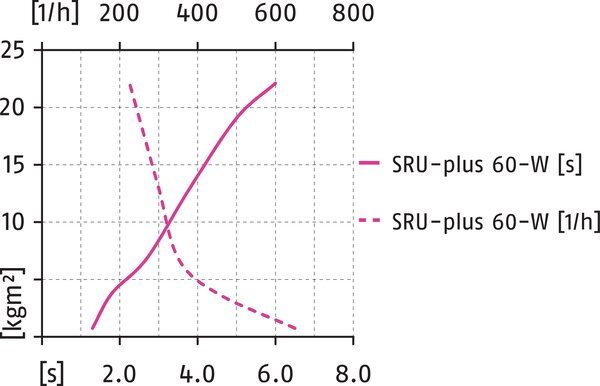 Dimensions and maximum loads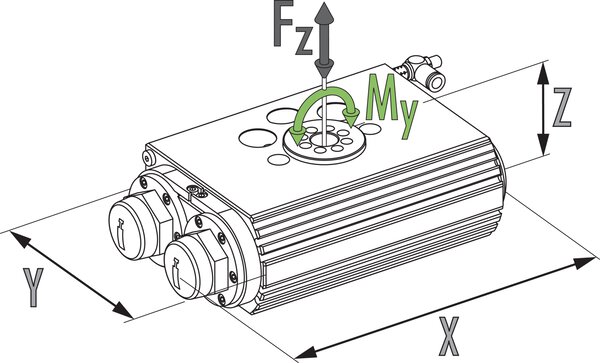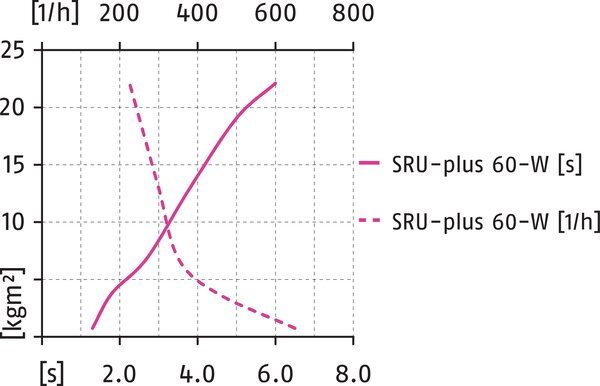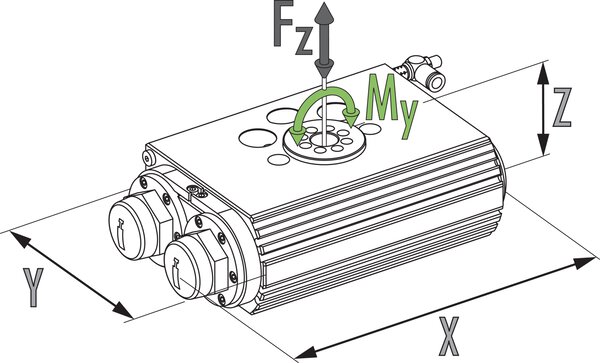 Max. permissible inertia J*
X Axis:

Swiveling time

Y Axis:

Mass moment of inertia
*The diagrams are valid for basic units and for applications with a vertical swivel axis as well as for absolutely centric loads with a horizontal swivel axis and with an operating pressure of 6 bar. The swiveling times per throttling have to be observed, otherwise the life time may reduce. We will be happy to help you designing other applications. In addition, the SCHUNK Design Tool Swiveling is available online.
Dimensions and maximum loads
The indicated moments and forces are statical values and may appear simultaneously. Throttling has to be done for ensuring that the rotary movement takes place without impact or bouncing. Otherwise the service life reduces.
General notes about the series
Repeat accuracy
is defined as a distribution of the end position for 100 consecutive cycles.
Pinion position
is always shown in the left end position. The pinion rotates from here to the right in clockwise direction. The arrow makes the direction of rotation clear.
Torque in the end positions
Please note that the final angular degrees (approx. 2°) before the end position can only be approached using the force of a single drive piston. For this reason, double actuated modules only have about half the rated torque available in this area. An external stop can be used to provide the full torque even in the end positions.
Travel to the pneumatic middle position
is carried out using only half of the nominal torque.
Swiveling time
is the rotation time of pinion/flange around the nominal rotation angle. Valve switching times, hose filling times, or PLC reaction times are not included and are to be considered when cycle times are calculated.
Housing material
Aluminum (extruded profile)
Actuation
pneumatic, with filtered compressed air as per ISO 8573-1:2010 [7:4:4].
Operating principle
Double piston rack and pinion principle
Scope of delivery
Flow control valves, centering bushings, O-rings for direct connection, fitting screws (SRU-plus 63 only), assembly and operating manual with manufacturer's declaration
Warranty
24 months
Service life characteristics
on request